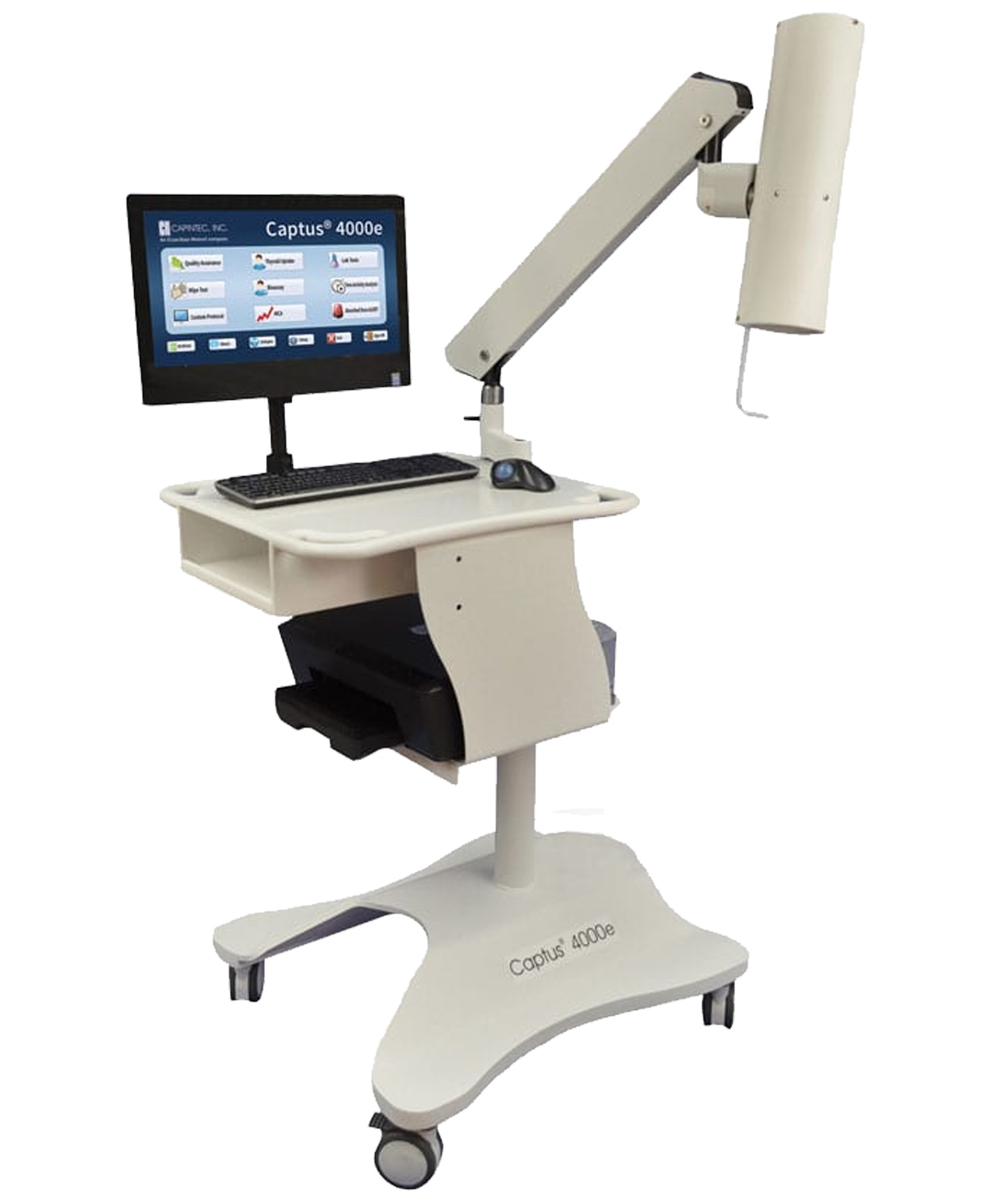 The Captus 4000e unit is a comprehensive Nuclear Medicine Measurement System, with specific software modules for thyroid uptake, bioassay, wipe tests, automated quality assurance tests, and isotope library. The system includes a fully functional 1024 channel MCA with auto and manual calibration. Timed activity mode features a programmable repetitive timed measurement program.
Improved menu driven workflow and large 20 inch color touch screen streamlines user interface.
The optional fully integrated DICOM interface communicates directly with hospital information systems, and can transfer patient, wipe test, and QC data. Custom Protocol is included as standard, and Microsoft Office Professional 2010 software is optional.
New and improved stand provides ergonomically adjustable monitor and easy to position articulating collimator arm. Four sided comfortable handle grips and swivel wheels ensure easy mobility. PC can be attached to either right or left side to optimize workspace.

Available in 3 Configurations
ITEM# 5430-30151
Does not include additional well detector
ITEM# 5430-30152
Includes 2″ diameter NaI(Tl) well detector
with 1″ Lead Shielding
Well Dimensions: 1.55″ deep x 0.66″ diameter
ITEM# 5430-30154
Includes 2″ diameter NaI(Tl) well detector
with 2″ Lead Shielding
Well Dimensions: 1.55″ deep x 0.66″ diameter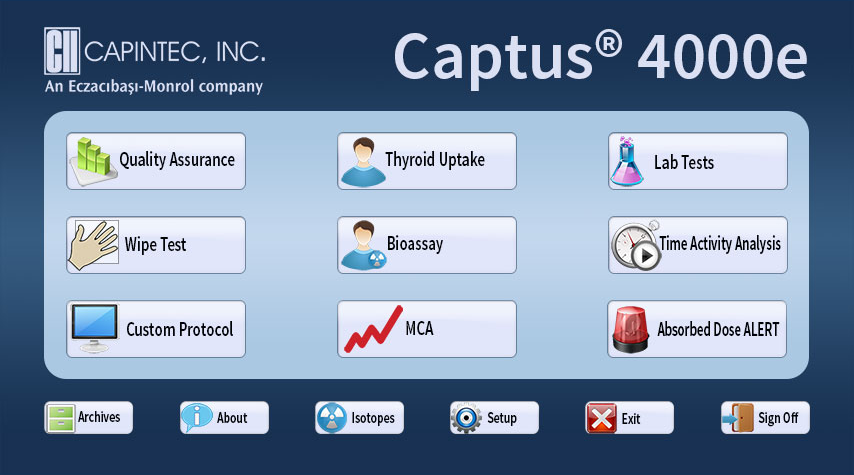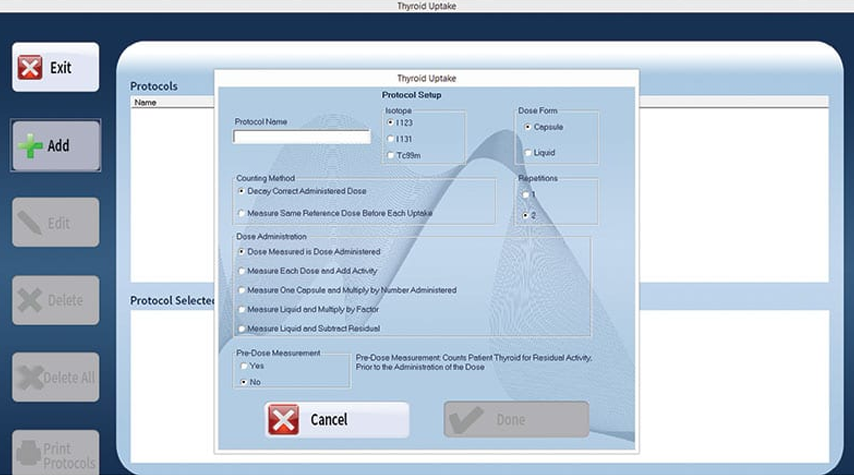 Diagnostics & Tests
Fully automated Quality Assurance Section includes energy calibration, zero adjust, gain adjust, detector efficiency, detector resolution, chi-square, constancy, and MDA
Manual calibration available in MCA module
Thyroid Uptake
Provides four predefined protocols
Supports both capsule and liquid dose formats
Dose may be pre-counted before patient assignment
Pre-dose measurement option
Normal range option
Wipe Tests
Setup for multiple groupings; Isotope identification available
Spectrum is displayed for each wipe
Activity exceeding trigger levels flagged in red
MCA
1024 channels
Automated and manual calibration selection
Preset or user defined ROI; Count set by real time, live time, or total peak counts
Timed activity feature enables predefined continual repetitive measurements
DICOM Interface (Optional)
 Fully integrated interface with Captus 4000e system
Retrieve patient data from worklist
Upload patient, wipe test, and QA reports
Bioassay
Monitors Staff for I-123, I-125, and I-131 exposure
User defined action levels for each isotope
Individual and summary reports available
Custom Protocol
Create Custom Measurement Sequence
Customizable Reports
Reports
Reports include full spectrum graphics
Thyroid report includes time vs. uptake value graph
Data is archived
Reports can be printed or saved as a .pdf file
Thyroid Uptake Stand
Ergonomically designed floor stand; Medical grade Corian countertop with shelf
Adjustable height PC stand, left or right side mounting
Articulating arm with 34 in. vertical range of travel and 220° collimator rotation
Protective cable management system
Neck phantom storage location
Fully protected internally routed cables
Four heavy-duty locking casters that swivel 360°
Isolation transformer for patient and user safety
QA source holder for reproducible geometry
Computer
20″ All-in-One Touch Screen Flat Panel Computer
Windows 10 Platform
Printer
Uptake Detector
2″ diameter 14-pin NaI(Tl) detector with 1.55″ d x 0.66″ dia. well
Flat field collimator meets ANSI N44.3, IAEA
Precision measurement and alignment rod, which measures distance directly to thyroid
Well Counter
2″ diameter NaI(Tl) well detector with 1.55″ d x 0.66″ dia. well
1″ lead well shield with brass liner
Optional 2″ shield available
Multichannel Analyzer Interface PC Board
Two detector inputs
1024 Channels
Maximum count rate: 200,000 cps at 5%
Count Rate Linearity: Within 2% up to 150,000 cps; ROIs automatic or manual
Differential Linearity <2% over the top 98% of channels; Integral Linearity <1% over the top 98% of channels
Presets live time, real time, total counts
Automatic peak finding
Software controlled lower level discriminator
Thyroid Uptake Stand Dimensions
Closed Storage Position: 56″ x 28″ x 32″ (142 x 71 x 81 cm) (H x W x D)
Arm able to extend 36″ (91 cm) horizontally beyond shelf
Vertical travel 25 – 63″ (64 – 160 cm)
Weight: Uptake System: 340 lb. (154 kg)
Weight with 1″ Shielded Well: 410 lb. (186 kg)
Weight with 2″ Shielded Well: 540 lb. (245 kg)
Power
120 V ac, 60 Hz, 2.6 AMP
230 V ac, 50 Hz, 1.1 AMP
Isolation Transformer with hospital grade cord and plug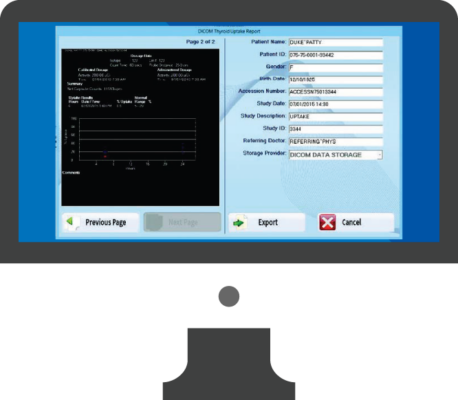 DICOM Software (Optional)
---
ITEM # 5430-00007
DICOM software adds DICOM Modality Worklist (MWL) and DICOM export to the Captus 4000e system. This solution allows patient information and demographics to be pulled from the Radiology Information System (RIS) or Hospital Information System (HIS), thus, reducing errors and time associated with the manual input of patient information.
Cap-DICOM software creates a DICOM secondary capture image from information generated during the uptake procedure. The software exports the DICOM image files to a destination DICOM C-Store provider specified by the user. This destination may be a nuclear medicine workstation or PACS (Picture Archive and Communication System).
| | |
| --- | --- |
|  Item # | Description |
| 5230-0038 | Neck Phantom |
| 5420-2164 | Well Detector 2″ Shield |
| 7315-1850 | Rod Source Holder |