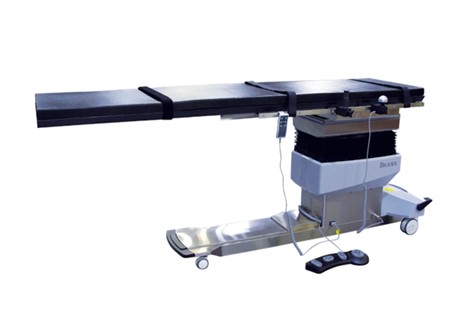 Item # 058-840
With an advanced low attenuation float top for cardiovascular, endoscopic and pain management procedures, the Surgical C-Arm Table 840 is the ideal choice when stability, access, and precise, quiet, vibration-free positioning are essential. A cantilevered low attenuation carbon-fiber tabletop, with choice of rectangular or contoured design, accommodates portable or ceiling-suspended C-Arms.
The extra-large 75″ radiolucent area, free-float X-Y tabletop, motorized control of height, isocentric lateral roll, Trendelenburg motions and the catheter tray extension make the Surgical C-Arm Table 840 ideal for cardiovascular and interventional radiology applications. Functional design provides complete access with reduced radiation exposure to clinicians. Patient comfort and stability are assured by two-inch thick table padding and three adjustable straps with hook and loop fastening.
Control Made Easy
The portable hand-held and foot-operated controllers ensure quick and safe tabletop positioning, and can be positioned from any point around the table. Both controllers offer the freedom to adjust height, lateral roll and Trendelenburg motions. The hand-held controller provides the back-to-level function. The foot-operated controller also releases the tabletop for X-Y positioning and is ideal when hands are busy with other functions.
Freedom of Movement
The ergonomic mushroom-shaped control optimizes command of the SmoothGlide™ free-float tabletop. When employing any degree of tilt or roll, X and Y positions are locked to prevent gravity-induced movement. 35″ head-to-toe (X) can be maintained during lateral roll; and side-to-side (Y) can be maintained during Trendelenburg positioning.
Isocentric lateral roll motion is a unique movement that maintains center of the focal area, minimizing image distortion. Reducing the time required for adjustments, table or patient, ultimately reduces exposure to scatter radiation.
Free-Float Tabletop – With specially-designed SmoothGlide™ movement
Carbon-Fiber Tabletop – 0.7 mm attenuation (1.2 mm with pad) design
Choice of Contoured or Rectangular Design – Contoured tabletop features a face cutout for comfortable prone positioning
Tabletop Motion – Expansive head-to-toe, 35″
Radiolucent Area – Extra-large, 75″
Isocentric Lateral Roll Motion – Maintains image center during tabletop movement, minimizing image distortion (+/- 15°)
Precision Electric Motor Actuators – No oil or hydraulics
High-Speed Actuators – Assure quick tabletop positioning, height adjustability, isocentric lateral roll and Trendelenburg motions
Mushroom-Shaped Control – Ergonomic, for free-float motion
Table Base – Encased in stainless steel, easy to clean
Hand and Foot-Operated Controllers – Ensure quick and safe tabletop positioning
Patient Capacity – 500 lb
Low Profile Base – For unrestricted C-arm movement
Accessory Rails
AC and Battery Power – Standard
Three year limited warranty
Dimensions:
Overall:

97" l x 26" w (246 x 66 cm) with OR accessory rails




Tabletop:

97" l x 24" w (246 x 61 cm) – choice of classic

contoured or rectangular design




Catheter Tray Extension (removable):

18" l x 24" w (45.7 x

61 cm) non-radiolucent




Radiolucent Area:

75" l x 24" w (191 x 61 cm)




Tabletop Material:

Carbon fiber with integral head section




Mattress:

Seamless, 2" thick (5 cm)




Attenuation:

1.2 mm Aluminum equivalence
Motions:
Height Adjustable:

33.5" to 43.5" (84 to 109 cm)




Tabletop X Motion (head-to-toe float):

35" (88.9 cm)




Tabletop Y Motion (side-to-side float):

10" (25.4 cm)




Trendelenburg:

0° to 20°




Reverse Trendelenburg:

0° to 20°




Isocentric Lateral Roll:

0° to ±15°
Controls:
Hand Control:

activates height, isocentric lateral roll and

Trendelenburg motions




Foot Control:

activates all motions (has release for float)




Mushroom-Top Control:

releases X-Y Tabletop motions




Accessory Rails:

Standard OR accessory rails 49.5" x 1.12" x




375" (124 x 2.86 x .95 cm) mounted near foot end of table




Patient Restraints:

Three body straps




Finish:

Stainless Steel




Patient Capacity:

500 lb (227 kg)




Weight:

641 lb (291 kg)




Shipping Weight:

865 lb (392 kg)
| | |
| --- | --- |
|  Item # | Description |
| 058-864 | Arm Board, Surgical, Carbon Fiber |
| 056-866 | Arm Board, Carbon Fiber, two arms |
| 056-865 | Arm Board, Carbon Fiber, one arm |
| 056-850 | IV Pole, Rail Mounted |
| 058-849 | Clamp, Accessory, C-Arm Table |
| 058-856 | Radiation Shield, Head/Cervical |
| 058-857 | Radiation Shield, Thoracic/AB |
| 056-862 | Battery and Charging Unit, 115 VAC |
| 056-802 | Bellows Skirt, disposable plastic, 250/roll |
| 046-275 | Dispenser, Disposable Protective Roll |