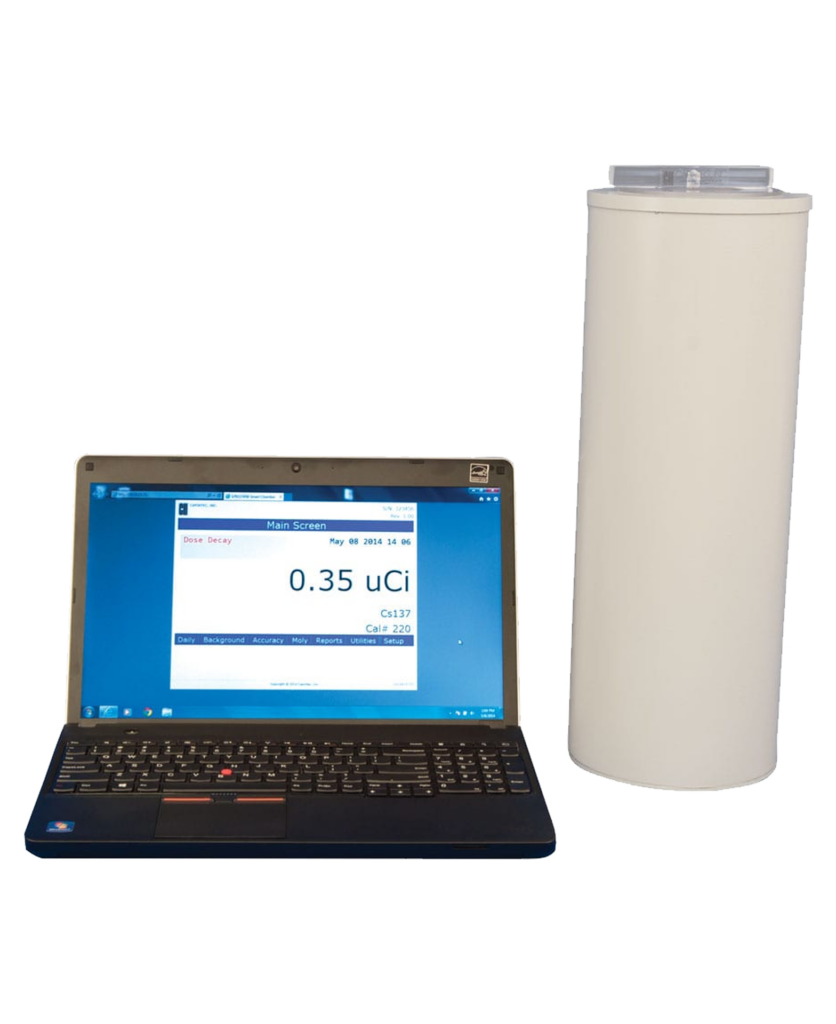 The CRC-PC Smart Chamber combines the well-known and highly reliable measurement Capintec chamber with an innovative web-based user interface to meet today's business requirements. Remote connectivity and network ready interface set the Smart Chamber apart as the most advanced in dose calibration. 
The innovative functional design of the PC Smart Chamber provides a small footprint, and direct interface to Nuclear Medicine Management Systems with remote viewing capability. 
Additional features include Ethernet software upgrades, plug-and-play chamber, and user adjustable threshold for faster response.
Available in 2 Fill Pressures
ITEM# 5130-20253
Provides excellent low activity sensitivity
while covering a wide clinical range of activities.
ITEM# 5130-20254
Lower fill pressure to accommodate higher activity yields
of today's generators and cyclotron sites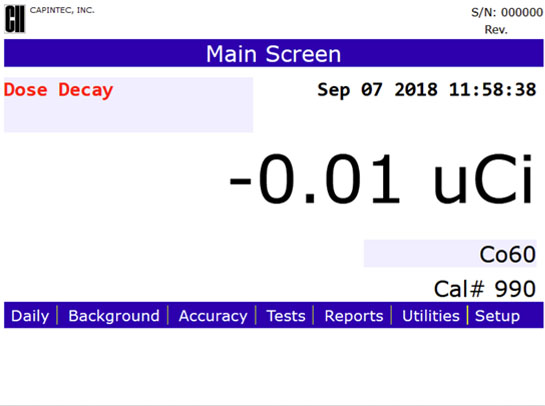 Chamber Dimensions
18.1″ h x 6.76″ d (45.8 x 17.17 cm)
39.3 lbs. (17.8 kg)
Well Diameter: 2.4″ (6.1 cm)
Well Depth: 10.0″ (25.4 cm)
Ionization Chamber
Type: Thin wall, deep well, low pressure
Fill Gas: Ultra-Pure Argon
Measurement Range
Auto Ranging
HL (hot Lab) Tc-99m: 222 GBq (6 Ci) |  F-18: 74 GBq (2 Ci)
RPh (pharmacy) Tc-99m: 2670 TBq (6 Ci) |  F-18: 740 GBq (2 Ci)
Electrometer
Accuracy: Better than ± 2%
Linearity: Within ± 2%
Response Time: Within 2 sec, 4 to 16 sec for very low activity samples
Repeatability of Measurement
Within ± 1% within 24 hours during which time the calibrator is continuously in operation
Tests
Diagnostics: Full test of program, system memories
Auto Zero, Auto Background Adjust, Data Check, Accuracy & Constancy, Voltage Test
Enhanced: Linearity, Geometry
| | |
| --- | --- |
| Item # | Description |
| 5130-0006 | Molly Assay Canister |
| 7300-2450 | Environmental Shield |
| 7300-2004 | Well Liner |
| 7300-2005 | Vial/Syringe Dipper |
| 5130-2046 | CAP-MAC-S Molly Assay Canister for Syringes |
Nuclear Data
30 User Nuclides
Over 80 built-in nuclides (cal number and half-life)
Standard Source Data
System Memory: Co-57, Co-60, Ba-133, Cs-137, Na-22 standard sources
Molybdenum-99 Assay
Methods: Canisters and CAP-MAC
Measured Values: Mo-99 elution, Tc-99m, Tc-99m/Mo-99 Ratio
PC Port
Interface: Ethernet
Compatibility: Standard Nuclear Medicine Management Systems
Power Requirements
100-240 V ac (50/60 Hz) 3 A max
Chamber Power
USB: 5 V dc, 0.5 A
Power over Ethernet (PoE): 48 V dc, 0.35 A