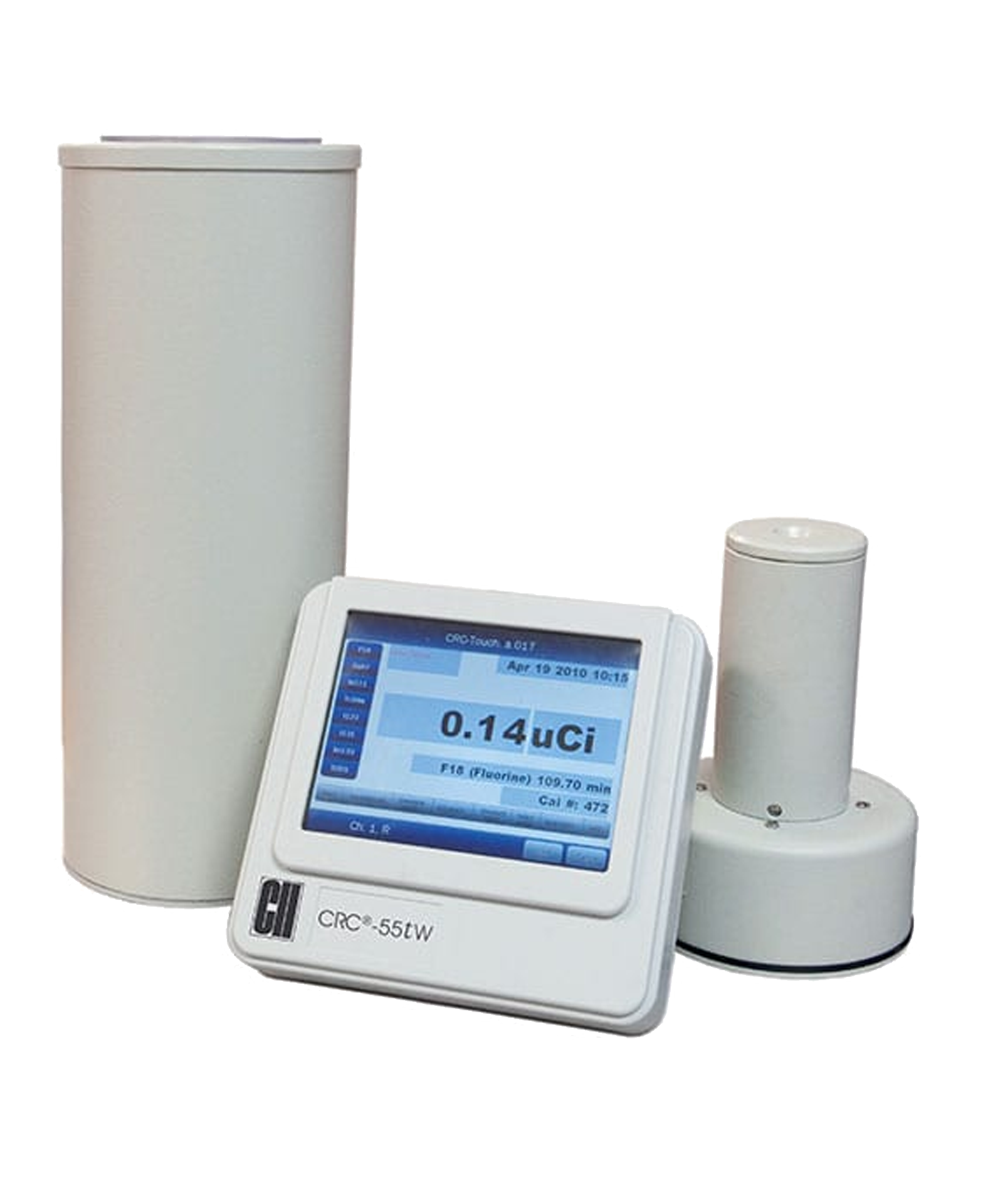 Item # 5130-2216
As a combination of the CRC-55tR Dose Calibrator and Well Counter, the CRC55tW dose calibrators provide advanced features with the speed and accuracy you need to measure activity and prepare doses. Its ion chamber is one of the time-tested, high pressure well designs by Capintec capable of measuring a dose as high as 6 Ci (250 GBq) with high accuracy. The CRC-55tW calibrator features a new helpful chamber plug-and-play capability.
For wipe testing, the CRC-55tW calibrator allows the user to define specific counting procedures (protocols) with trigger levels for work, patient, unrestricted areas and sealed source leak tests. The CRC-55tW unit also performs counting functions for wipe tests in as little as six seconds at activities as low as 1 nCi. Low activities are measured with a drilled well high sensitivity Sodium Iodide (NaI) detector.
The well counter includes a 256 channel MCA which provides detailed spectrum for identification and analysis. Manual and automatic ROI selection are available.
The chamber and counter of the CRC-55tW calibrator are combined in a menu driven, touch screen interface that is easy to learn and use.
Reports software, archives well counter data for quality assurance procedures, wipe measurements, and laboratory tests. Well counter reports are stored and searchable by date range for later viewing or printing. Wipe tests are searchable by date range, wipe type, and activity.
Fill Gas: 12 atm Ultra-Pure Argon
Measurement: Auto ranging
Activity Range: Up to 6 Ci (250 GBq)
Resolution: .001 MBq (.01 µCi)
Response Time: Within 2 sec, for low activity sample, 4 to 16 sec
Tests: Daily tests include Auto Zero, Background Adjustment, Voltage
Test, Data Check, Accuracy and Constancy
Enhanced QC includes linearity, geometry, strip QC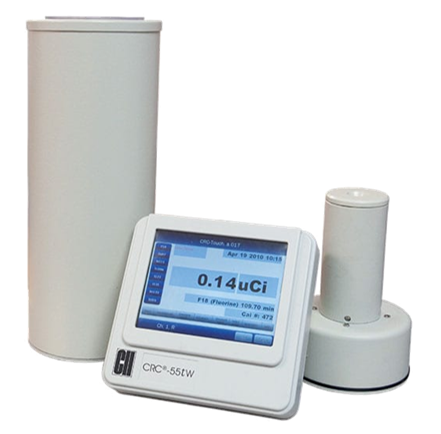 Type: Sodium Iodide (NaI) drilled-well crystal detector
256 Channel MCA, manual and automatic ROI
Warning Trigger Levels: User-definable
Tests: Daily test, energy calibration, and reproducibility
Enhanced QC includes Chi-Square and MDA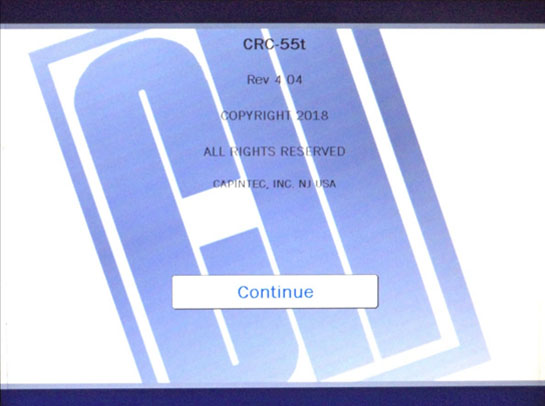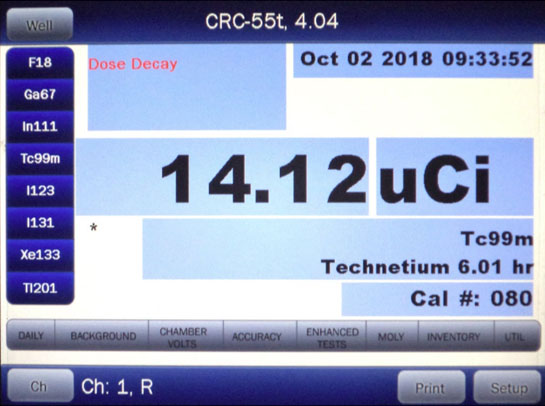 Tests: Daily tests include Auto Zero, Background Adjustment, Voltage Test, Data Check, Accuracy and Constancy; Enhanced QC includes linearity, geometry, strip QC
Display Screen: Type: 8 in. VGA LCD color touch screen display; Bq/Ci Reading: User selectable or fixed; Activity Display: Selected radionuclide, calibration number, measured activity and display units (Bq/Ci); Count Rate Values: Wipe and lab test results
Electrometer Accuracy: Better than ± 2%; Linearity: Within ± 2%
Repeatability of Measurement: Within ± 1% within 24 hours during which time the calibrator is continuously in operation
Nuclide Data: 28 programmable keys; System Memory: Over 80 nuclides (cal number and half-life); A pre-set key measures up to 2.0 Ci (74.0 GBq) of F-18
Standard Source Data: System Memory: Co-57, Co-60, Ba-133, Cs-137
Molybdenum-99 Assay: Methods: CAP-MAC canisters; Measured Values: Mo-99 elution, Tc-99m, Tc-99m/Mo-99 ratio
PC Port Interface: RS-232 and USB; Compatibility: Standard Nuclear Medicine Management Systems; Ethernet interface
Printer: RS-232 and USB Ports; Epson Roll, Epson Slip or Okidata dot matrix
Power Requirements: 100-240 V ac (50/60 Hz) 100 MA
Tests Diagnostics: Full test of program, system memories
Console
9.5″ h x 9.0″ w x 10.5″ d (42 x 23 x 27 cm)
7.5 lb. (3.4 kg)
Ionization Chamber
17.25″ h x 6.76″ d (43.8 x 17.2 cm)
30 lbs. (13.6 kg)
Well Diameter: 2.4″ (6.1 cm)
Well Depth: 10.0″ (25.4 cm)
Cable Length: 12′ (3.7 m)  – Longer cables are available
Well Counter
9.38″ h x 6″ dia. (23.8 x 15.2 cm)
15.2 lb. (6.9 kg)
Well Diameter: 0.67″ (1.7 cm)
Well Depth: 1.5″ (3.8 cm)
Cable Length: 9 ft (2.7 m) – Longer cables are available
| | |
| --- | --- |
| Item # | Description |
| 7300-2004 | Chamber Well Insert |
| 7300-2005 | Vial/Syringe Dipper |
| 5130-0006 | Molly Assay Canister |
| 5130-2046 | CAP-MAC®-S Molly Assay Canister for Syringes |
| 7120-1199 | CRP-200 Dose Tickets & Labels |
| 5430-0058 | Epson Roll Printer |
| 5430-0100 | Epson Ticket Printer |
| 7300-2450 | Environmental Shield |